Question
I followed the View in App link in a HotDoc appointment confirmation email or a hyperlink in an SMS appointment reminder but the appointment isn't appearing in my HotDoc account. What can I do to fix this?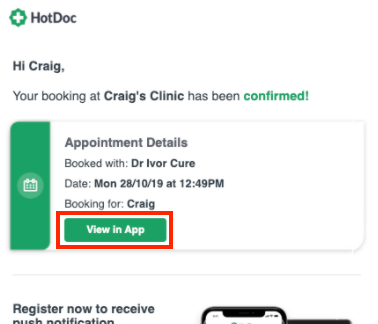 Solution
You may be experiencing this if HotDoc is not able to match the information the practice has on file to the information in your HotDoc account.
To attempt to resolve this, we recommend the following:
Confirm the mobile number that the practice has on your file matches the mobile number on your HotDoc account.


Make sure the HotDoc app is already downloaded on your device and logged in before clicking the View in App link. For download instructions, please visit: How to download the HotDoc app
Need more help?
If you're still having issues from here, please submit a request and we'll be in touch soon.