Question
I received an appointment confirmation email and the subject of the email displays the correct appointment date and time. However, the calendar link or body of the email has the wrong date and time: why does my appointment confirmation email have the wrong date and time in it?
Solution
If the date and time in the calendar link or in the body of the email are incorrect, this indicates that your email service or your device may have the wrong timezone set.
Depending on the email service you use, you may see the time zone listed after the incorrect date and time: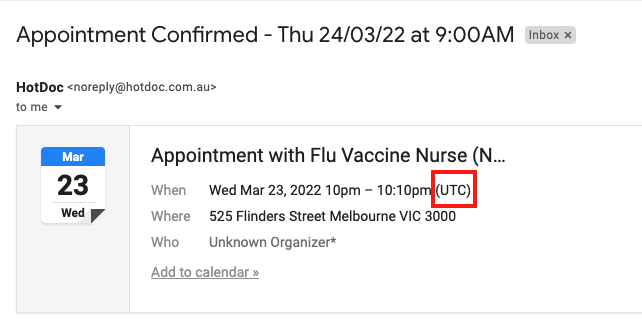 Example: a calendar link in a Gmail email
To resolve this issue, please check the following:
Ensure that the timezone on your device is set to your correct timezone. This is usually found in the settings of a mobile phone or on a computer or laptop. Through this, you can access the Time and Date settings through System Preferences (Apple) or Settings (Windows PC).



Ensure that the timezone setting in your email service is set to your correct timezone:
Apple Mail and Samsung Mail take their timezone from the setting on the device.

For Gmail, open the calendar and click on the gear icon in the top right-hand corner to access settings and check your timezone.

For Yahoo! Mail, open the calendar in full view, click on the cog/settings icon and select Calendar Options to check your timezone.