To make a booking at a clinic using HotDoc, you will firstly need to create a HotDoc account.

Please read the below guide to learn what you'll need, and how to setup an account with HotDoc.
The email address you register must be unique. If your email address has already been used to create another account, you will see a message to say that email has 'already been taken'. In this case you can regain access to this account by resetting the password.
We will send a verification code to your mobile phone by SMS. Successfully entering this code back into the registration form lets your clinic know that your mobile number is correct and contactable.
Your surname and DOB entered in HotDoc may need to be matched to your existing record at your practice. To ensure they have the correct match, and there are no delays in confirming your appointment, please ensure your surname and DOB are entered correctly.
ⓘ What do I need for a HotDoc Account?
How to create your HotDoc Account
Head to the HotDoc signup page.


Enter your email address and the password of your choosing, then select I agree to Terms & Conditions:





Following this, select

Continue. This will take you to the next page to input your full name, date of birth, gender (optional) and your mobile number:




Once you've entered your mobile number, select Send SMS and check your mobile for your SMS Verification code. Please note, your SMS verification code may take a few minutes to come through. If you still haven't received your SMS code after 5-10 minutes, please restart your mobile phone:






Enter your unique code into the Enter Code input box and select Create Account:





If successful, you will now see the below screen welcoming you to HotDoc and your initials in the top right corner. This means you are logged in and ready to start making your online booking!

See Booking an appointment to learn how to make an appointment using HotDoc.




Check out this video snippet to see how it's all done!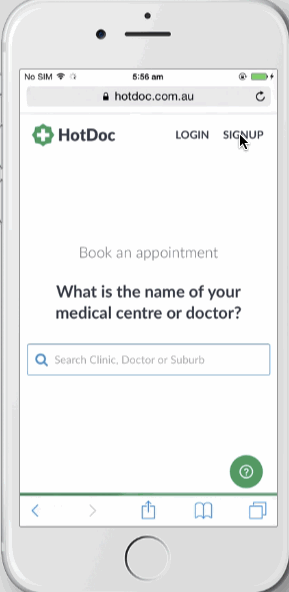 Need more help?